Dubbed the "Land of the Brave" and the "History Capital of the Philippines," Cavite is known for its rich history and a large number of national heroes – hence its reputation as the the "Land of the Brave" and the "History Capital of the Philippines" – but it's also quickly turning into a go-to destination for staycations.
With so many amazing hotels and resorts opening in the province, people aren't just coming for the historical significance that Cavite has to offer. 
If you're looking for a unique and beautiful place to tour or stay in Cavite – a place where you can enjoy the beauty of nature, and taste delicious food and good coffee, or if you're just looking for fun activities – Queens Strawberry Farm is a must-visit!
Queens Strawberry Farm is a gorgeous agri-tourism destination and event space in Alfonso, Cavite that's sure to provide all the R&R you need! 
Whether you're planning your first trip to Queens Strawberry Farm or if you're a returning guest, here's everything you need to know about this beautiful place.
About Queens Strawberry Farm Cavite
Queens Strawberry Farm is an agri-tourism destination in the hills of Alfonso, Cavite. Enjoy the great outdoors and visit the farm to pick fresh fruit or catch live fish.
The B&B has spacious and comfortable rooms to make you feel at home during your stay. Delight in the local specialties and kape at the restaurant. Get some much-needed rest in this little haven!
Queens Strawberry Farm Activities
Whether you want to bask in the beauty of nature, taste some fresh and delicious strawberries and a good cup of coffee, or simply unwind, Queens Strawberry Farm has something for everyone.
Here are some of the sights and activities you can enjoy at Queens Strawberry Farm:
Strawberry Picking (Seasonal). Pick your own fresh delicious strawberries at Queens Strawberry Farm! Enjoy a fun day out with friends or family, bring the kids, there's plenty of shade and rest areas to treat yourself to delicious real-fruit ice cream or smoothie, or a good cup of coffee after picking as many yummy strawberries as you like!
Million Lights. To be exact, we set up 1,240,000 lights to light up the sky! Don't miss it while it's still up.
48 feet Christmas Tree. Celebrate the holidays with Queens Strawberry Farm's GIANT Christmas tree! Bring your loved ones and family!
Fireworks and Live Band every Weekend. Looking for something to do for the weekend? Queens Strawberry Farm has you covered! Celebrate the season with lights, music, and more!
Rod Fishing. Are you a big fan of fishing? Queen Strawberry Farm features a small "fishing village" – an area where you can catch live fish that you can bring home with you or you can ask the staff to cook it for you.
You can also You can see fish along man-made fish ponds in some corners of the place. They are of different colors and they look so lovely as they swim around! Note: There are additional fees for rod fishing.
Queens Kids Playground. Calling all moms and dads! Take your kids out on a play date and have a blast this weekend at Queens Kids Playground.
Queens Strawberry Farm Events
Every gathering is a special event at Queens Strawberry Farm. Whether you're hosting a family trip, a group get-away, a corporate off-site, a wedding, or another gathering, allow Queens Strawberry Farm's picturesque setting to be the backdrop for your event. Each group, large or small is welcome at Queens Strawberry Farm. Get in touch for more details!
Queens Strawberry Farm Bed and Breakfast
Planning a longer stay at Queens Strawberry Farm Cavite? Whether you want to stay for the weekend or longer, they have a charming bed and breakfast that's beautifully designed for guests!
The Bed and Breakfast is a weekend experience at Queens Farm, quietly nestled in the rolling hills of Cavite. The farm has been carefully curated by the owners to host people from all walks of life.
The property has two rooms designed to offer practical comfort and relaxation surrounded by nature's beauty. Interested? Book your stay now.
Queens Strawberry Farm Price and Fees
A Php 50CONSUMABLE ENTRANCE TICKET will be charged per guest, to be paid upon entry. If you want to enjoy Queen Strawberry Farm's MILLION LIGHTS FESTIVAL, please note that they charge Php 100 for these special lights showcase (Php 50 consumable, Php 50 non-consumable). 
Queens Strawberry Farm Menu
All B&B stays at Queens Strawberry Farm come with complimentary breakfast care from our restaurant. Wake up and enjoy your choice of local favorites and good coffee from the comfort of your spacious room or dine alfresco in the garden! Or, if you just want to enjoy a meal during your tour of the place, here's a quick look at their menu: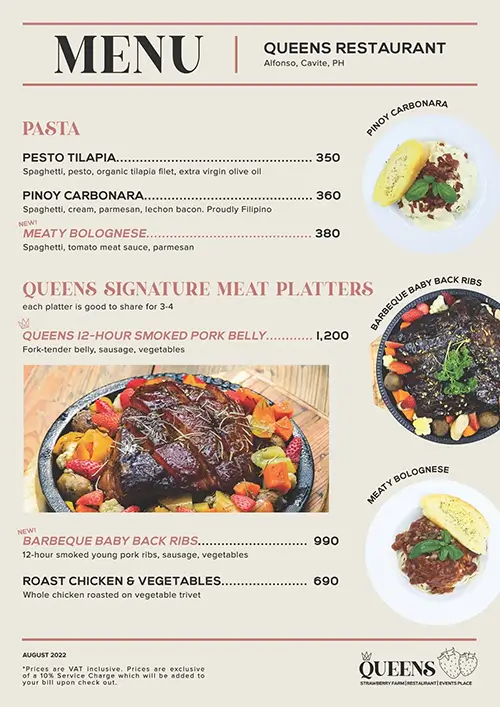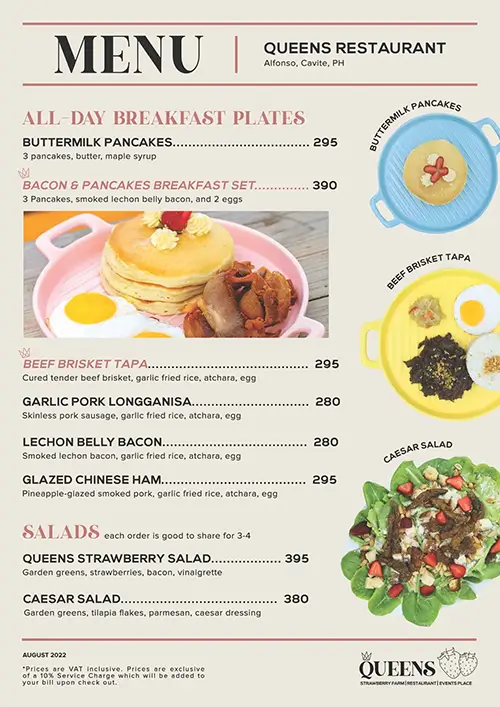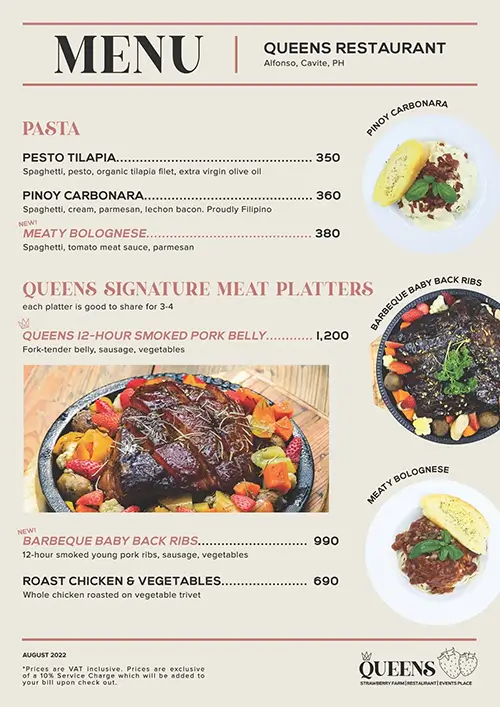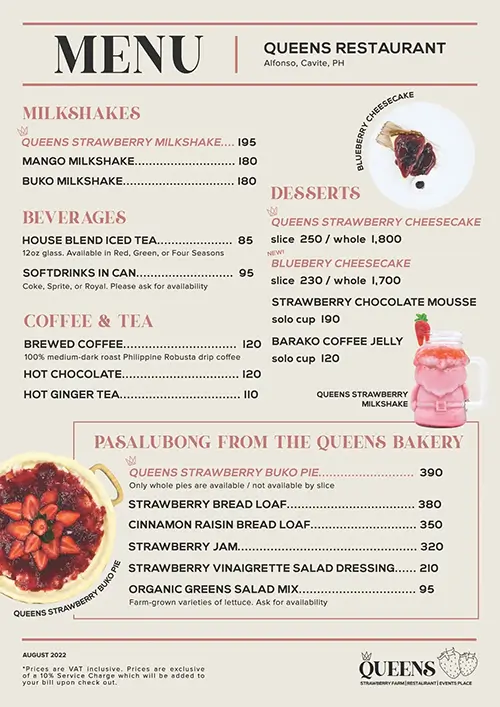 How to Get There: Queens Strawberry Farm Location
Queens Strawberry Farm is located in Sitio Hawilian 2, Barangay Upli, Alfonso, Cavite.
To get there:
Using Google Maps. For Google Maps, you may search "Queens Strawberry Farm". The farm's address posted is Patutong Malaki, Alfonso, Cavite. Make sure you click the right destination.
The "QUEENS Strawberry Farm" posted on google maps will lead you the wrong way.
Using Waze. For Waze, kindly search "Queens Strawberry Farm". The address posted is Sitio Hawilian 2, Alfonso, Cavite.
Via Public Transportation. Since the place is just a 3-minute drive from Tagaytay-Nasugbu Highway, it's quite easy to access using public transportation.
From Pasay/Buedia, take any bus bound for Nasugbu, Lian, or Calatagan.
Get off at Upli, Alfonso (just in front of Splendido Taal)
Ride a tricycle to Queens Strawberry Farm.
Queens Strawberry Farm is open daily. Weekdays: 8 AM – 7 PM, Weekends: 8 AM – 8 PM.
Wondering what it's like to tour or stay at Queens Strawberry Farm? Here are some reviews:
Queens Strawberry Farm Reviews
"Not expecting that it was a bit ways off of the highway. But really pleasantly surprised. Like a hidden gem. Wasn't able to sample the food offerings (we just had lunch) but their strawberry milkshake is unmistakably good. And the place is definitely Instagramable!
Tip: Strawberry harvest this December.
You might wanna put that on your calendar." – Glenn Revita
"Went with our family of 6 with kids and grandparents and it was a whole family day at the Queens Strawberry Farm. The restaurant has great food and enough activities for everyone to enjoy and have fun." Melody
"Reposting from my Instagram: Took my parents to Queens Strawberry Farm for my mom's birthday. Didn't know what to expect, but the 'rents seemed to have a great time exploring the area.

Dad couldn't stop talking about how fruit-bearing plants are used for the arches. Unlike most farm/garden places in this part of Cavite, Queens isn't manicured or polished.

For me, that's part of the appeal. What it has, aside from the kiddie playground, are actual produce and fish ponds, which made the whole farm-to-table dining experience truly fun. It also has small to large function rooms.

The strawberry fields haven't bloomed yet (or have just been harvested), but we'd really like to see this in February, which I hear is the best time. The food: big servings, satisfyingly yummy (especially the tawilis), and you'll see a lot of strawberries incorporated in some of the dishes.

I'd really like to go back and sample the rest of the menu because we didn't order much, but still left feeling super full. Oh, btw, it has an entrance fee of ₱50 ($1), but this is deductible from your restaurant orders." – Doc B Lapa
"At the time of our visit, strawberries were not in season so we were not able to get them so we just feed the koi. The entrance fee is consumable." – RGA 
"Decent place. It would be an excellent choice for weddings or events. It was clean also. However, there wasn't anything much to see or do when I went there(weekday afternoon).

The fishing wasn't available. No strawberries to pick at all. No kid rides are available either. The only thing open was the restaurant. Slightly disappointing because they charge an entrance fee for that.

At least you can apply the entrance fee towards a restaurant purchase. We had a strawberry milkshake. It took a long time to receive but was good. The ambiance was nice sitting in the restaurant.
Peaceful and relaxing." – Brian C. 
"My husband and I stayed overnight recently and had such a great time. The room was extra cozy and there was so much to do in the area that it was such a good spot to stay!

We especially loved the garden and how beautiful it was. We'd definitely come back – hopefully, before their 50% off promo goes away!!" – Mary 
"Mildly Fun place to walk around. If you're into gardening or plants this place you would find this interesting. Didn't eat here but the dining area had a good crowd. We tried out the fish farm, which was pleasant fun. I imagine during strawberry picking season this would be a fun spot.

This would be a good place to bring young children. Appears they are ready to cater to large groups. Worth checking out if you're into the above. You can buy coconut strawberry pies to go!" – Tim Mitchell 
 "A very pleasant experience. Cool and cloudy morning for our breakfast. The place is very Instagrammable and offers venues for small to big events.

Outside the main hall/restaurant, you can find nooks for a private, personal meal with the special company and savor the cool breeze that the area, Alfonso (and Tagaytay) is known for.

Service is courteous and the food is good. It would have been perfect for us if the strawberries have fruits but that gives us a reason for another visit!" – Jericho Sungahid 
Queens Strawberry Farm Contact Information
Ready to book your stay or schedule a tour at Queens Strawberry Farm? Or, maybe you have some additional questions or concerns? Feel free to reach out to their team!
For more information and reservation, visit www.queensstrawberryfarm.com or contact them
at 0948-841-7161. 
The Bottom Line
New adventures in nature. Queens Strawberry Farm is a destination with lots to do and experience and is one of Cavite's top attractions for families. Enjoy a delicious and fun day out… pick your own strawberries, catch some fish, explore the sights, or take your kids out on a nature walk.
Whether you want to bask in the beauty of nature, taste some fresh and delicious strawberries, or simply unwind, Queens Strawberry Farm has something for everyone!